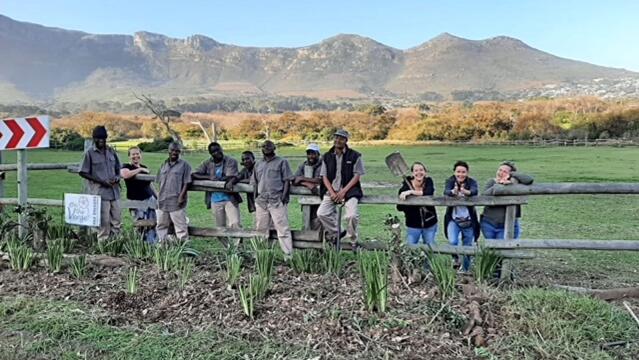 The Noordhoek Open Gardens will take place on Saturday and Sunday, October 16 and 17.
The public can visit 18 gardens, from 10am to 4pm, on both days of the event, which Kathy Fish and Noordhoek Tourism started seven years' ago to draw tourists and visitors to Noordhoek.
Proceeds from ticket sales will support On The Verge, a community greening project founded by Ms Fish 11 years ago.
Its eight permanent workers and five volunteers, with support from City nature conservation staff, have planted more than 100 trees and beautified more than 30 verges in the area, according to Ms Fish. They also clear alien vegetation and maintain walkways and riding paths in Noordhoek, she says.
The idea for On the Verge came to her after travelling between Bonnivale and Robertson, she says.
"The verges were incredibly beautiful, and the farmers had done an amazing job adding colour. I couldn't stop talking or thinking about it. I mentioned it to a friend, and she said: 'Just stop talking about it and do it.'"
Open Gardens Noordhoek has grown a lot since its beginnings, she says.
"There is something for everyone: indigenous, exotic, sun-loving, shade gardens, formal, food gardens large and small. Make a weekend of it and book a stay at one of the gorgeous B&Bs in Noordhoek to make more time to explore the gardens."
There will be workshops on propagating clivias and pruning bonsais, and visitors will be able to pick vegetables, taste wine and buy plants and garden accessories.
The Noordhoek Environmental Action Group (NEAG) will be doing tours of the Chapman's Peak Nature Sanctuary and visitors can learn about eco-systems that once covered large parts of Noordhoek. The tours will take place at 11am and 3pm on both days.
Single-entry tickets are R25, day passes are R125 and weekend passes are R200. Entry is free for under-18s and there is a discount for pensioners. Tickets are available at Longbeach Mall until Sunday, October 10, at Noordhoek Tourism or on entry to any of the gardens.
Visitors will need to comply with Covid-19 regulations. Visit noordhoektourism.co.za or call 072 574 6608 for details.