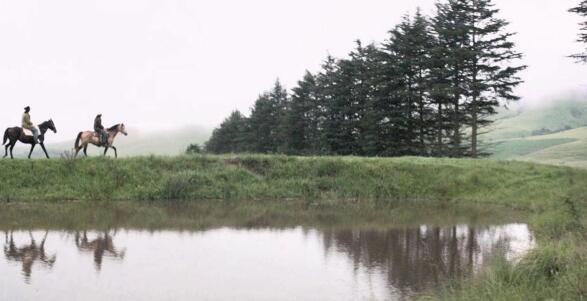 Kommetjie musician Jack Mantis has told the story of his greatest love, and greatest loss, in a music video that made Hollywood sit up and take notice.
Mantis has just won Best Music Video at this year's Hollywood South Film Festival for the video to his song simply known as Beth.
He says the story behind the music video bears the scars of living in South Africa. It has been 16 years since the senseless murder of Beth Tomlinson, former beauty queen and the love of Jack's life.
Her murderer has never been found.
For years, Mantis ruminated on this chapter of his life, of love and tragedy in equal proportions.
He had made videos for all his other songs, except for this one.
Until he met German director Roman Müllegger.
Müllegger spoke to the False Bay Echo about the project from Munich.
He says he had simply been a long time fan of Mantis, and they would chat after his various gigs, especially at the original Zula Bar in Cape Town.
"We always spoke about working together on a project. And then one day, Jack opened up to me about what had happened. And we knew this would be it."
Aware that the content of the story was raw and real, Müllegger says he strove to tell the visual story as authentically as possible.
The opening scenes were shot in a Cape Town bar, which was populated by Mantis's close friends and family, many of whom knew Beth.
Beth's mother was there, too.
The filming then went to the Natal Midlands, and to the Drakensberg, places of real significance for Mantis in his journey of recovery after Beth's murder.
The video is a dirge to her, and to the lasting effect she has had on him.
Mantis says making this video was one of the hardest things he has ever had to do.
"These were not memories I'd planned to revisit. Beth was one of the brightest lights I've ever encountered, the kindest kind, and, for the longest time, my compass. The 16 years since her passing haven't always been easy."
He says living in this country comes with the guarantee of unexpected tragedies.
"After that night, I fell down, I fell apart, and very slowly began rebuilding myself. I didn't really have a choice. I knew she'd have had it no other way. So I guess this story is a South African tale and, sadly, in no way unique. But I do believe that love does prevail, and we really can all achieve great things through forgiveness."
Müllegger says the experience of shooting this video was rare, both for the story and for the opportunity to work so closely with Mantis.
"He is the most humble man. I realised travelling with him that he has done so much more than he will tell you, but more than that, you learn a lot about someone by the way they are received along the path, and so many different people knew Jack, and all welcomed him. He is a special man."
He says there were some strange elements to shooting the video, including the unusually turbulent weather.
"Jack looked at the skies one morning and commented that Beth was present, nothing else could account for this unusual weather."
The shooting also left Mantis physically injured when his horse slipped and he was thrown from the saddle, earning himself three broken ribs and a broken collarbone.
"I guess I will carry the ripples of this story for the rest of my life," he says.
Mantis is primarily a musician but he is as adept at making art with a spray can as he is with a guitar. Kommetjie still boasts the mural he painted while home, on holiday in 2016.
He launched his album, Circumstance of Events, at the Farmhouse Rocks in Scarborough in November 2016.
He spends his time musically between Europe, America and South Africa and last year completed a sold-out, 140-date tour across Germany in support of the film release for Blown Away, a collaborative project he worked on with German outfit The Sailing Conductors. This film was officially selected for the Ocean Film Festival in 2019.
Mantis is currently in production of his second full-length documentary, Til Everything is Illuminated.
A story of how the thread of fate ties humanity together, it will explore his experiences communing with people deep in the Amazon.
The video Beth has premiered on jackmantisband.com where fans can also download the single and album, An Unwritten Life.
Mantis heaped praise on Müllegger for the "ridiculous amount of love/effort and dedication he put into bringing this thing to life".
There were raw moments for him during the making of the video, says Mantis, when Müllegger switched from director to friend and dropped the cameras.
"He never once complained, or for a moment lost sight of the final product. This thing that has become something far bigger than I ever dreamed of really wouldn't be if it wasn't for him and his tireless efforts."