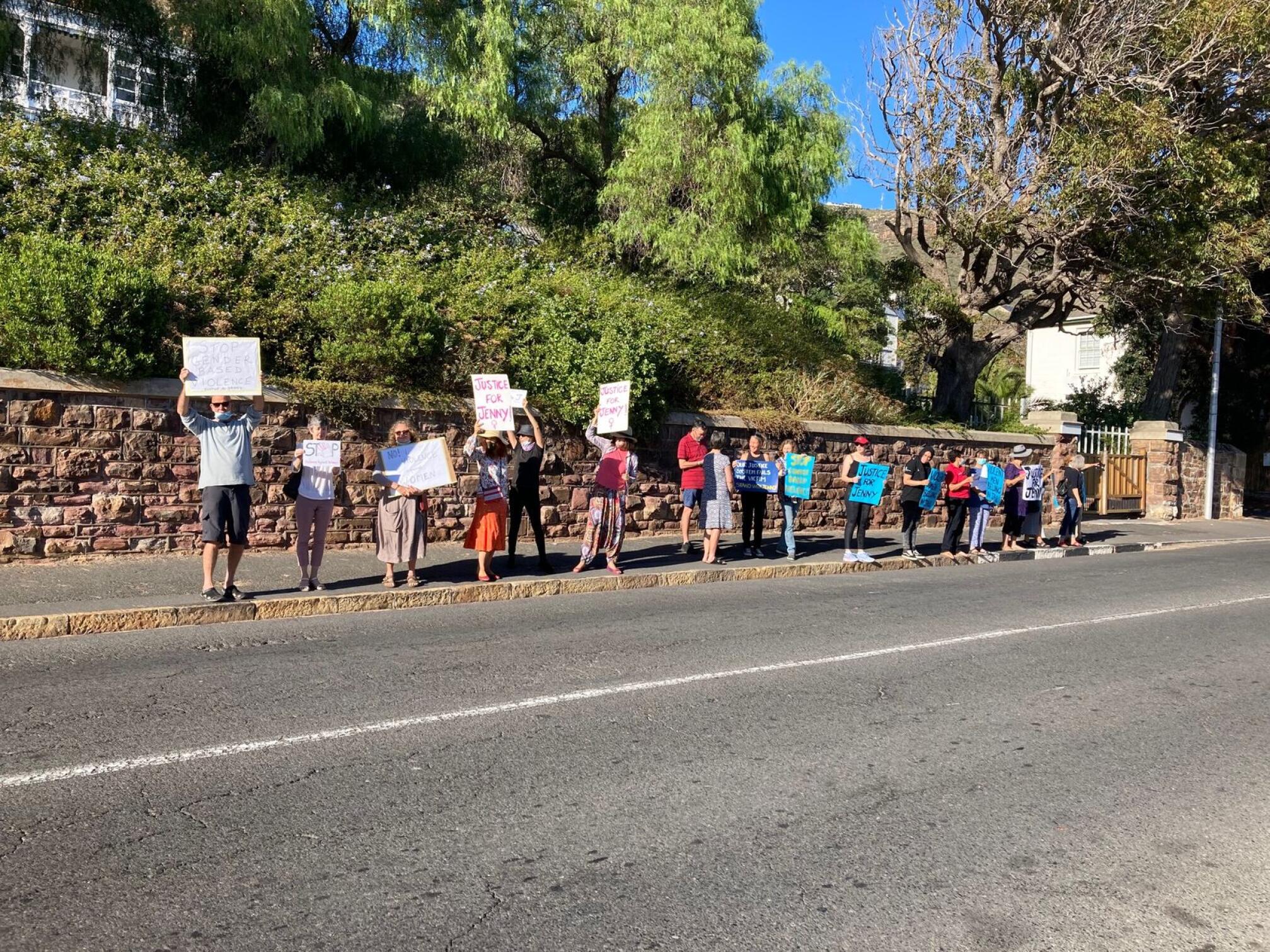 A Simon's Town woman says victims of gender-based violence are let down by the system and often face further abuse and trauma due to staff that lacks the sensitivity to deal with women who had suffered severe trauma.
Following a brutal attack on the mountain near the entrance to Cape Point in July last year, Jenny Cullinan was denied access to a trauma room at the Simon's Town police station due to Covid-19 while giving her statement and despite her trial having started on Wednesday March 9, the detective investigating her case had never verified her statement or spoken to her about the case.
"The legal system fails victims. I was standing there shaking and bleeding from the head but was not allowed to sit while the police officer took 40 minutes to take my statement," she said.
Ms Cullinan faced her alleged attacker, a Simon's Town business owner, at the Simon's Town Magistrate's Court on March 9, a day after International Women's Day, but the matter was postponed as the accused was to represent himself but had asked for legal counsel.
He faces a charge of assault with the intent to do grievous bodily harm. He is yet to plead.
Ms Cullinan was supported by a group of 40 women and three men carrying placards saying "Justice for Jenny", "Jail violent men" and "Our justice system fails the victim, stand with Jenny."
Ms Cullinan said the "slow wheels of justice" further added to trauma and there should be a dedicated court for women who had been victims of gender-based violence. "It's one delay after the other with no consequences," she said.
Ms Cullinan is a wild bee researcher and has a permit to be on SANParks property. She was on the mountain on the afternoon of July 31 last year with her two dogs Georgie and Josie. Georgie, an elderly sick dachshund, was in a pouch against her chest and Josie was on a leash.
She saw three people in the distance carrying something and the man approached her while a woman and young man walked off. He carried a short stick that had been sharpened at the one edge and introduced himself to her.
Ms Cullinan said he asked her if she knew whether fynbos could be propagated and thinking he might not be aware that it was a national heritage site, she told him he needed a permit to be there and he was not allowed to remove plants from the area.
"I asked him if he was from Durban, thinking he was new to the area," she said.
When she turned to leave, her dog Josie jumped up and as she looked around the man was coming at her with the stick and she ducked.
He then repeatedly beat her with the stick on the back of her head as she fell to the ground while saying "I'm not touching you, I'm not touching you."
"After the third strike, everything just went black. I realised I had to get out of there and reached for my glasses that were on the ground. He stepped over me and crushed them with his foot and this is when I got up and made a run for it," she said.
He followed suit, screaming: "You want this and I'm going to give it to you."
Ms Cullinan needed five stitches in her head after the attack and had extensive bruising on her face.
The day after the attack, Ms Cullinan was called to the police station where she was arrested for assault. Her alleged attacker had laid a charge against her, saying she had slapped him and told him to go back to Durban.
She was put in a cell a few metres from where he was detained.
"This was a very traumatic experience for me, being so close to him after he had attacked me," she said.
The case against Ms Cullinan is in its pre-trial stages and she is due to appear in court in mid-April.
In November last year, SANPark's Environmental Crimes Unit issued the wife of Ms Cullinan's alleged attacker with a fine after she and her husband and son were caught on the mountain removing plants.
SANParks spokeswoman, Lauren Clayton, said the woman initially told rangers her son was collecting plants for a school project but the plants were in a plastic bag hidden under her clothes.
On Friday March 11, Ms Cullinan, who lives in a cul-de-sac, was outside her home talking to her neighbour when her alleged attacker and his wife drove past her house in a white Toyota Fortuner. The incident was captured by her security cameras.
Following the incident, Ms Cullinan obtained a protection order against the man.
However, she said, the process of getting a protection order was extremely difficult.
"There is no one there to help you complete the forms or to tell you what to do next. I can totally understand why women are hesitant to report matters of abuse to the police or try to get help from the court. The system makes it impossible for women to get help and they are made to feel like a nuisance," she said.
Ms Cullinan's protection order was only granted a day later as the magistrate presiding over her case was the only magistrate on duty that day and could not grant the order.
The protection order is also a temporary order and before it can be made permanent, Ms Cullinan must face her alleged attacker again in court where he will be given an opportunity to motivate why the order should not be made permanent.
Advocate Bernadine Bachar, director of the Saartjie Baartman Centre for Women and Children and head of GBV Advocacy, Soroptomists International South Africa, said survivors of gender-based violence still experience barriers to accessing justice at domestic violence courts.
"These barriers are comprehensive and often result in access to justice being compromised," she said.
She said survivors report that they are not treated with sensitivity by court personnel, that they are often forced to wait in court corridors with their abusers, and that matters (which are by their very nature urgent) are postponed for long periods of time. These shortcomings require urgent rectification.
" A war is being waged on the bodies of South African women – at the very least we should ensure that our courts offer them a measure of protection," she said.
Provincial police spokesman, Sergeant Wesley Twigg, said Ms Cullinan was denied a trauma counsellor as Covid-19 was at its peak.
He said she should take the matter up with the station commander or the Independent Police Investigative Directorate (IPID) to a lay complaint so that her allegations can be investigated.
National Prosecuting Authority (NPA) spokesman, Eric Ntabazalila, said the first few postponements were standard postponements for further investigation, which is a normal court procedure.
He said the case was then transferred to another court for trial and was postponed because the accused decided to appoint an attorney.