For nearly 10 decades False Bay RFC has built its reputation on community, friendship and rivalry to establish itself as the club rugby powerhouse of the south, with its catchment area stretching from Simon's Town to Constantia and beyond, writes JON HARRIS
A sporting icon, the history of False Bay Rugby Club is steeped in pride, character and care for the community.
Morphing from full contact matches on Muizenberg Beach (hence the False Bay connotation), False Bay RFC was established on March 17 1929, their first pitch situated at Sandvlei.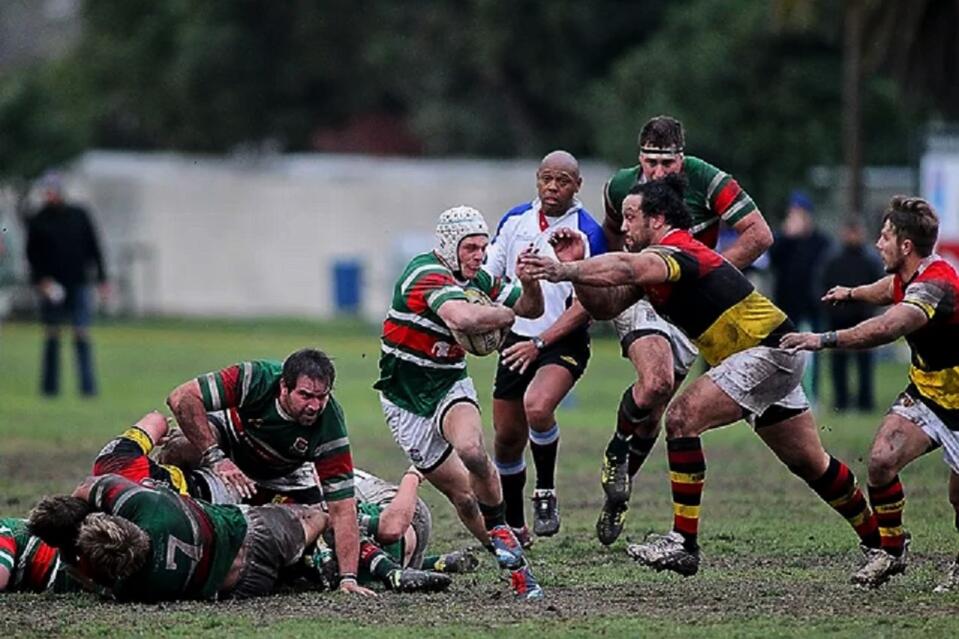 A short-stay in Mowbray was followed by a longer one at Liesbeeck Park in Observatory. In 1934 the Bay was granted a permanent home at the WPRFU fields in Princess Vlei Road, Plumstead. The Bay earned senior status in 1945, their first senior season being far from successful, with the First and Second XVs ending bottom and the Third XV second last on their respective tables. Proof of the club's potential was third place for their under 19s behind Stellenbosch and UCT.
Springboks Doug Hopwood and Alan Skene started their careers at the club.
Renovations at the Plumstead fields were necessary in 1955 and an unhappy, albeit temporary move was made to Wynberg Sports Club, where the facility was shared with soccer teams, an odd partnership indeed. Fielding eight teams with only one field to use could have broken club spirit, yet False Bay emerged from this challenge stronger and more united than ever before. They returned to their Plumstead fields and gained senior status in 1958. The members of the club who had seen them through these trying times were the backbone of False Bay as it entered life in the top flight.
Three exciting decades filled with reward and challenges had passed and False Bay entered the next phase of their existence, that of a Grand Challenge club.
The 60s was an exciting period, notable for an influx of new members from UCT who remain loyal to False Bay RFC to this day. The iconic Basil Bey and Louis de Waal were two of the most notable additions to the club. The Bay's strong history of team tours, a generator of False Bay "Gees", was cemented in the 60s, including travelling by Union Castle ship to cities such as Durban, East London and Port Elizabeth. Sevens Rugby was introduced to South Africa by Louis de Waal, who had been exposed to the shortened format during his stay at West of Scotland RFC in Scotland. Louis is indeed the Grandfather of Sevens Rugby in South Africa.
The first Inter-Club Sevens Competition took place at False Bay RFC in 1965, which the hosts won. In 1969 the finals of the competition was a curtain-raiser to the Springboks vs British Lions Test at Newlands, which False Bay again won. During this period Des Christians regularly represented WP at scrum-half, while Butch Watson-Smith represented WP B at centre.
In 1971 the Constantia Sports Complex became the home of False Bay RFC, where it still resides today.
False Bay RFC reached a pinnacle in 1972 when they were crowned Grand Challenge Champions. Captained by Watson-Smith and coached by Basil Bey, the team was built on a strong foundation of players, who saw the Bay through the relegation phase and had progressed to become administrators and coaches. The 1972 Grand Challenge title remains an achievement which is of great pride to the club and its members.
After the heady success of the Grand Challenge Championship, False Bay maintained their position as a top 10 rugby club in the province. The club, until the latter 80s, enjoyed Grand Challenge status, which was split into two tiers with the top 10 teams at mid-season competing for the Grand Challenge and the bottom 10 in the Town Challenge. In the late 80s and early 90s, False Bay found themselves in the Town Challenge, yet still enjoyed popular support. Although seemingly resident in the Town Challenge, False Bay were nevertheless perennial contenders for top spot in that league.
The next highlight in the Bay's history was just around the corner when Nick Mallett took the reins of the First XV.
In 1994 Nick Mallett joined False Bay as coach. Two impressive years followed, in terms of results, playing personnel and support. Players included Springboks, French Internationals and Provincial players. Mallett produced the results and the A-field was encased by spectators enjoying the brand of rugby on offer. Legends such as Fabienne Galthie, Laurant Cabannes, FC Smit, Niel Hugo and many more represented False Bay and embrased the warm environment on offer at the club.
Rugby turned professional at the end of 1995 and a scramble for players by Currie Cup Unions followed. Many clubs suffered a drain of talent, False Bay among them. False Bay returned to SLB and their next highlight was being crowned SLB Champions in 1998, when Henry Monk and his team took the title and regained SLA status. Success was short-lived and even greater heartbreak was to follow. The club entered a freefall which bottomed out when they were relegated to Division One (effectively SLC) in 2002.
The inherent spirit of the Bay came to the fore and a recovery of note commenced. Brendon Fogarty took over as head coach, assisted by Daryl Sim. False Bay ended second in Division One that year, that Bay spirit again evident. The following year, back in SLB, one of False Bay's favourite sons, Justin van Winkel, joined the club, having been introduced to the club by Sim.
Kevin Musikanth was appointed head coach in 2009 and won the SLB that same year. False Bay's first year back in SLA delivered a remarkable third-place finish and included victories over Maties, Vics, Hamiltons, Villager and Durbanville-Bellville. The 2010 season also saw the introduction at flyhalf of Dimitri Catrakilis, who went on to higher honours. The following season saw a seventh-place finish and at the end of 2012, False Bay and Villager RFC were relegated to SLB. Musikanth returned for 2013 and won the SLB, an achievement so central to club survival and development. An outstanding young talent was unearthed during this time. Huw Jones went on to earn WP, Stormers and Scotland colours.
Johnno van der Walt was appointed as head coach in 2014, assisted by Ryan "Slab" Williams, Chris Hewetson and later, Andrew "Gunner" Hughes. False Bay finished a credible fourth in SLA2014. Narrow losses to Maties, Vics, UCT and Hamiltons set the bar for improvement. The player base was aging, needed some youth and that log position made recruitment easier.
Captained by Michael Poppmeier, the players had assumed responsibility for many facets of the process, including fitness and team spirit. The effects of this were evident as the Bay wrapped up many games in the last quarter. If they were not recognised as a force in 2014, False Bay left no doubt the following season, finishing second to Maties in a season which saw them win all but one (Hamiltons) of their 14 games.
Stellenbosch's superior bonus point tally the difference between the teams and an indicator of what was necessary. They returned in 2016 well prepared and determined to improve on their best finish since 1972. Now captained by Graham "Snoopy" Knoop, the team was unbeaten (they drew with Hamiltons). Their healthy bonus point record for the season gave them only their second title in their history. They were crowned Super League Champions 14 years after relegation to Division One. Fifteen years after being relegated to Division One, False Bay RFC was crowned Gold Cup Champions, National Club Champions of South Africa.
During this rebuilding phase, the club was well-served by loyal and talented players, among them three double-centurions, more than 200 First XV caps. Marc Davids, Justin van Winkel and Andre "Vlam" van Vuuren are members of this distinguished group, soon to be joined by Ryan Olivier, now with well over 200 caps to his name.
In Johnno van der Walt's swansong year, he guided False Bay to their second Super League A league, the end of an era, which may be initially challenging to emulate, but far more achievable than it appears on the face. The foundations have been laid. The club's position in the modern community deeply established.
So where to now? Rugby as we know it continues, the challenges of modern society prevail but there is a new, exciting rugby entertainment beast in the spectrum. One which is probably purer in its essence, more committed in its execution and so free of the hang-ups and shackles of the male-based game – women's rugby.
False Bay's Women's Team ended second in the inaugural WP Women's Rugby League and are building from that sound base.